HLA FISHING AND FISH MANAGEMENT PAGE
Attention Horsehead/John Brown Lake Cottage Owners

Will our lakes become major Walleye fishing lakes? It has already started. Many fishermen have reported catching good sized Walleye this past year. We need your help to continue stocking our lakes with Walleye.

With the contributions from The Horsehead Lake Association, the Poker Run, land and cottage owners, we were able to plant 2,440 6-8 inch Walleye in the fall of 2012,, and another 2000 in 2013. To date, we have planted a total of 15,509 thanks to your donations and support!

Your continued support through funding of walleye stocking will help us grow this activity in the future.

Please note that checks must be made out to ALEX USCHUK - FISH FUND (see below)

"------"------"------"------"------"------"------"------"------"------"

Please fill out this form and send your donation to:

Alex Uschuk - Fish Fund

Alex (Bud) Uschuk (517) 663-4112

1849 S. Smith Road

Eaton Rapids, MI 48827 bevuschuk@att.net for questions

Name: _____________________________________________________

Address: ____________________________________________________

City, State, Zip: ______________________________________________

Phone: ______________________ Donation: $_________________
___________________________________
2008 Fish Survey
Students from Michigan State University in conjunction with
the HHL Association Fisheries Management team conducted a formal fish
survey of Horsehead Lake from May 31st through June 2nd.
The preliminary run happened in early May... here are some photos from the event: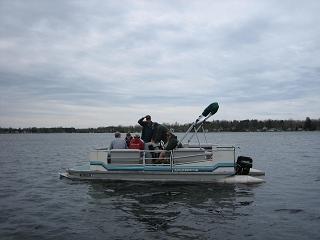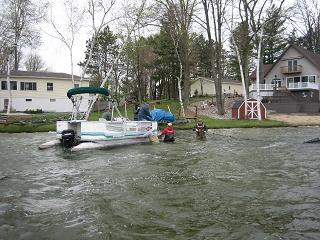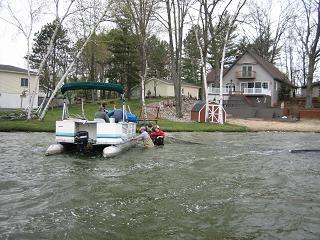 Thanks to MSU Students Ali Felix, Brian Terry, Eric Czuprenski, Christian Malcolm, and Dan Wieferich
for their help with the survey, along with all of the HHL members who are offering their time, boats, homes, and food for the survey team.
Click HERE to see the report from June.
To see the September, 2007 report and Aquatic Assessment, please click HERE.
(you must open with Microsoft Word to view).
_______________________________________________
2007 Fish Plant
The 2007 Horsehead Lake Fish planting happened April 13, 2007. A total of 3950 5-7" hybrid Bluegills
were planted at a final cost of $4,200. 75% of the cost was covered through your donations to the
HHL Fish Fund (see below), and 25% was covered by the HHL Association.
The Fish Fund remains open for future planting... to make your donation, please see below.
Here are some photos from this years planting!